Bavanew Pomeranians are located in Sudbury, a northern Ontario city which is the Nickel Mining Capital of the world. Sudbury is a five hour drive from Toronto or a 45-minute flight.
We here at Bavanew have been showing and breeding Pomeranians for almost 30 years. Bavanew is NOT a kennel . . . our puppies and adults live with us in our home. On occasion, when we breed our females, all the puppies are sold, we do not keep any for ourselves, when one of our older ones die, we then replace it with a new puppy.
At Bavanew we breed for what pleases us, gorgeous heads, super temperaments, heavy bone and hairy legs and, most of all, huge coats. We know that these days Poms are trimmed for the show ring BUT we still insist on breeding for huge and correct coats.
Photo of Matt . . .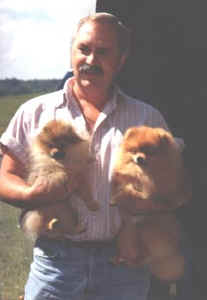 One of our greatest joys is to start out a new breeder with sound advice and a good puppy for their breeding program.

In short each litter that is born here must be better than the last. Our goal has always been the betterment of our beautiful breed.

To read more about us, please click here to view our October 2002 Kennel Visit with the Pomeranian Club of Canada.
35 years later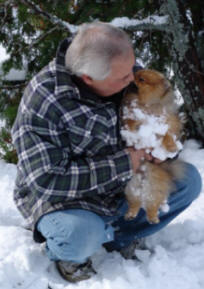 and still in Poms