Bavanew Pomeranians
— Matthew J. Heindl, Sudbury , Ontario

This Kennel Visit is going to be a bit different from others — I won't bore you with names of my winners and championships, but what I will do is try and jot down some of my experiences of more than 30 years of living a life with my beloved breed.
To begin — Pomeranians have always been in my life. As a young boy growing up in a small mountain village in Germany, Poms were everywhere — not as beautiful as today's Poms and rather ill-tempered, little ankle-biters guarding their master's property — but they were everywhere. My first experience with our beautiful breed was as a young boy while staying in my Uncle's home. This Uncle was the owner of one of our sulphur spas that people with severe arthritis frequented. One of these patients was a very famous lady in the Pom world, from Texas , Mrs. I. Schomberg from the famous Aristic Kennels. While staying at the spa for six weeks, she, of course, came with four of her furry babies — her constant companions. These four guys became my job — to take them for a walk and make sure all four went for a piddle and a poo — all for the whopping price of one US dollar a day. For six weeks I thought I was the richest kid in the world. Little did I know that this famous line of Poms would be the beginning of my own line many years later.
A few years later I left the province of Bavaria in Germany and came to Canada to stay with relatives in the province of Newfoundland . Thus, the name of my kennel — BAVANEW — a combination of two provinces, the first part from the old world and the second part from the new world.
Life with my Poms started at the age of 21, I was as green in the breed as grass. My first dog show was the Oakville Show in 1968. At this show I watched four Poms go into the ring. What an excitement! I stood and watched in wonder at these beautiful dogs. While standing at ringside and then walking around trying to find their owner's set-up, I came across the set-up of Edna and Doug Bradley and their Poms. Edna immediately tried to feed me all their sandwiches since she thought that my 125 pound body needed fattening up — and boy did she do a good job. We were together for 25 years, they became my second parents, we shared Poms together and yes Edna fattened me up another 75 pounds as the years went on.
I joined the Toy Dog Club that Edna and Doug belonged to. In those days it was a bit easier to belong to this kind of Club than an All Breed Club. There was less strife among members as each had their own breed to worry about. Summers and weekends were spent at Edna and Doug's, all the Pom breeders (the few we were) brought all their Poms. What a site — sometimes there were as many as 90 Poms running around while we all sat under the huge Weeping Willow trees talking Poms, sharing breeding programs — just enjoying each other — what a far cry from our now-a-days breeder get-togethers. Thus went by 20 years or so. All the older breeders are gone and suddenly, it seems, I am one of the older ones. I would also like to mention that Edna's sister was the famous Canadian breeding judge, both conformation and obedience, the late Evelyn Kenny from Alberta . From Ev I learned many things about Poms and will always be grateful to her.
I have seen some of the so-called breeders of our breed come and go over the years. Many thought that success in this breed comes overnight. Boy, were they wrong! But the ones that stuck with it, making their breeding program a lifelong commitment found success in their years of labour and love for our beautiful Poms.

When asked for advice on how to breed super Poms, I always tell them "If you haven't got a good win after 5 years with your dogs, you had better change your breeding program."
In my opinion, the biggest turnaround for Poms in Canada came with the introduction of one little Pom that hit the shows, CH. MILLAMOR'S ROCK MEDALLION, and for this we have Chris and John Heartz to thank. All of a sudden, Judges awarded Best in Shows to Poms, our grooming changed for the better, everyone bred for a better and more stylish dog; so that now, only a decade later, Canadian dogs are winning on an international scale.
With this new and frequent recognition also came the need for a National Club for our wonderful breed. A few of us banded together across the nation, with no funds but with a lot of hard work and determination, we got things going — and obviously it has worked to the present day.
On a personal note, to have a national and a provincial club is the greatest thing. It certainly helps us all in the breeding and showing of our Poms. The only drawback is the so-often petty jealousies and arguments that arise. If only we bred among ourselves more, with the good dogs we all have, there would be a lot more Best in Show Poms born to many more breeders of this wonderful breed.
On the whole, here in Ontario we have had some great gatherings for Club meetings and parties. The two homes that opened their doors to these get-togethers were Barb McCrimmon in Cornwall and Sharon Shibley in Kingston . Both these two ladies also hosted quite a few of our national and regional specialties here in Ontario , with great success during some not-so-easy times.
Many people over the years have asked me what I breed for. The answer is always the same — I breed for myself. I have to live with my dogs, I have to like and love what I'm producing in my breeding program. For myself, it's a beautiful head, heavy bone structure and a huge coat.
I know for the show ring, our Poms are now trimmed and at times sculptured to enhance their beauty. But you still have to have a good huge coat with the right texture to start out with. It becomes a breeder's nightmare in the long run if a short or loose type of coat is used in a breeding program.
The most important dogs in my breeding are my Brood Bitches. These girls must be sound, correct coat, weigh between 5˝ to 6 pounds, be somewhat longer in the body and most of all free-whelpers for at least four generations. If you don't have these kinds of girls in your kennel, then you will keep your Veterinarian in mink with C-sections and weak puppies not worthy of passing on their genes in your program.
This also brings us to the greatest dilemma facing all breeders of Pomeranians, and that, of course, is the Black Skin Disease. It's in every line and it has been with us from the first Poms that came from England in the early 1900s. Our gene pool is very small indeed, inbreeding for too many generations is hazardous. I myself have found that using Poms with a gene not used so often such as black and tans will help quite a bit from the black skin showing up. The American Pomeranian Club is working around the clock trying to find the true cause of this horrid problem, and it's wonderful that the Pomeranian Club of Canada is financially supporting the new research project by the AKC Canine Health Foundation on Black Skin Disease in Pomeranians.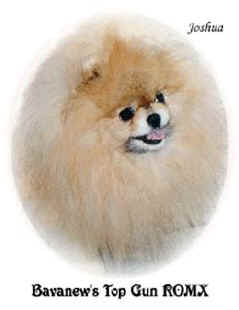 No one bloodline or breeder should be to blame — there are always the ignorant few who will try to blame, but they have a lot to learn. I have often heard the comment "It's the short-faced Poms with the heavy bone structure that are balding. Well, I have seen thin legged Poms with muzzles that can eat corn cobs through a picket fence and these types are just as bald.
For some of my greatest moments over the years with Poms — one of the greatest was getting a Best in Show at Credit Valley, Canada's largest dog show at the time . . . and with a female to boot. Another great that comes to mind is winning three Best in Shows in succession, on a three-day weekend.
And, of course, winning a few national and provincial/regional Specialty Shows also made for some pretty great moments. To some, this might not be the greatest, but while on my way to Newfoundland , I stopped off at the home of Chris and John Heartz and one of my nicest memories was sitting in their dining room eating lobster by the buckets and my favourite Pom, their famous "Medallion" sitting at my feet. He was 10 years old at the time, full of life, in super coat
and happily retired.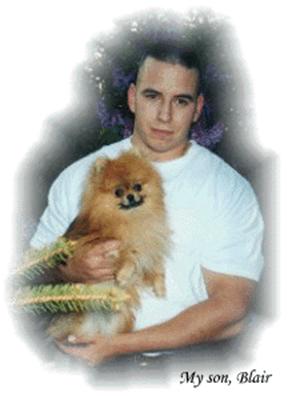 When asked about my greatest disappointments in Poms over the years — of course, the answer is "losing that special puppy". But the loss that stands out in my mind the most is when one of my young females, CH. Bavanew's Pretty Woman, was poisoned with three valium pills just before going into the "Puppy of the Year" competition under well known breeder judge that had been putting her up all day. I will always be grateful for the thoughtfulness of Joan and Mel Beech who sent me a card and letter expressing their care and concern — boy, it sure helped at a time when I had lost faith in a lot of other so-called fellow competitors.
In the last few years, I've enjoyed going to the American Pomeranian Club Specialty in New York . I finally got to meet so many people that I had read about and talked to for years. I made some great friends from Australia , Philippines , Japan , France , and the Hawaiian Islands . I went out West to Edmonton in 1990 and got to meet a lot of Pom people there. Hopefully, soon I'll be able to go out to another National Specialty.
I can't end my Kennel Visit without bragging about my SUPER Best in Show, namely, my son Blair. His keen interest in the Poms has shown time and time again. He has helped breed and whelp quite a few litters in the last few years. Of course, he's only 20 years old — so girls, trucks and computers are at the top of his list of priorities. But with his interest in the breed, when the time comes, I know that he will carry the BAVANEW Poms far into the new millennium.
In closing, my thanks to all of you, especially my great Webmaster in Newfoundland , for all her kindness and hard work with my website. There are so many that I would love to name and send special greetings to that have enriched my life with their friendship. You know who you are, love you all.
— Matt
www.bavanew.com